Creating Modern Heirlooms

Custom by Design
Indulge in a custom piece of fine jewelry that is 100% sustainable and 100% yours. Whether you're wishing for a symbol of commitment, signifying a major milestone, redesigning a family heirloom, or simply spoiling yourself, our expert jewelry consultants are ready to jump in and create something one-of-a-kind for you.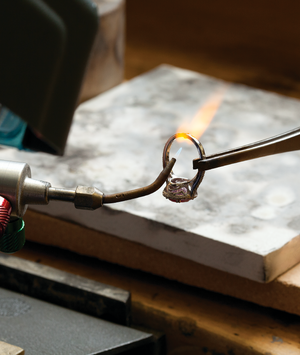 DESIGN DISCOVERY
Join us for a complimentary design consultation to discuss your wish-list, vision, and style. We'll meet virtually or in-person in our design studio to create your bespoke jewelry. Feel free to come solo or bring family and friends.
INSIDER TIPS
Our goal is to give you as much information, education, and as many insider tips as possible. We think it's critical that you know and understand all your options when choosing the lab-grown diamond that's right for your design.
Select your center stone
When selecting your center stone, we will guide you in picking the right shape, cut, color, clarity and carat weight for you.
DESIGN YOUR PIECE
Based on our findings during discovery, we will use sketches and/or computer-aided designs (CADS) to come up with options for you to review. From there we will revise and work side by side with you to finalize your concept. 
FABRICATION
This is where the magic happens! We have a team of expert custom goldsmiths that fabricate your piece, cast the metal, and set your stones. We love bringing your jewelry designs to life!
Become a Happy Clients Like These
★★★★★

If you want a one of a kind, personalized, ring shopping experience look no further! I stopped by Carbon Diamonds while looking for a new wedding ring. What I walked away with was a personally designed ring of my dreams! They took the time to educate me on all my diamond options, price points and were so patient with all my questions.

Brenda McCollum
★★★★★

I normally don't do the review thing but the customer service was everything you dream of when having something custom made. Darren and Tanner did a great job on my wife's custom dream ring! Not only did they educate us on the different qualities and shapes of diamonds they also taught us about the 4 C's! I'm referring these guys to all my friends! Thank y'all for helping us make our dreams come true!

Adrian Washington
★★★★★

Darren and Tanner are the best! If you're looking for an incredible custom design experience, Carbon is the place to shop. Incomparable knowledge and industry insight from people who truly care about their clients long after the purchase is complete.

Van Wattley
★★★★★

I recommend Darren and Tanner at Carbon Diamonds as highly as possible which in Google reviews is a 5-star rating. From the education about diamonds to the custom work (engagement ring) that I had made for my fiancé, they never sold me anything, but rather just guided me through the process. I am so glad that I bought from Carbon Diamonds.

Jeremiah Gore
★★★★★

Darren was the most helpful Jewler I could have possibly imaged. He walked me through the process of evaluating the right Diamond for us. He then arranged for a custom designed ring setting. My wife and I could not imagine a better ring, setting, a more professional consultant than Darren. Our ring has appraised for 3 times what o paid working with Carbon Diamonds.
If you use someone else, besides Darren you are wasting money. And, you may not get the setting, support and education you would otherwise receive.

Tom Lawless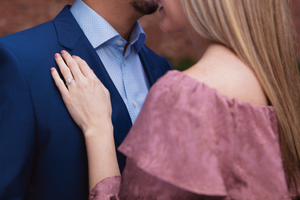 Shop with us in our Dallas store. We'd love to share our collection with you in person.